5 Best Japandi Desk Designs Of 2023
If you shop for Japandi desks, you are in for a treat. Not only is Japandi style beautiful, it is ideally suited for workspaces. The desks are highly functional tools and meant to be used – key traits of any effective home office setup. Many are also well-made, which means they hold up to real work. And since Japandi follows the wabi-sabi philosophy of beauty in imperfection, any accidental wear and tear only adds to the experience.
The beautiful and calming attributes of Japandi also keep you at your desk longer, helping you get more done with less stress.
From my perspective as a designer and fellow remote worker, few styles blend modern beauty and work functionality better than Japandi. Still, some designs focus too tightly on the aesthetics. Productivity is crucial, even in Japandi offices, so this list prioritizes desks in sizes and functionalities that ensure the best work performance.
Please note that some designs may contain affiliate links. As an affiliate, I may receive a commission for recommendations or purchases made through links on my website without any extra cost to you. For more information, please read my disclaimer.
Summary:
Top Pick: Best Standing Desk with Storage – Euri Height Adjustable Standing Desk
Best Standing Desk with Solid Wood Top: Riverside Benches Adjustable Standing Desk
Best All Wood Japandi Desk: Rowan Desk
Best Japandi Desk in Solid Wood With Storage: Kara Rustic Lodge Drawer Desk
Best L-Shaped Japandi Desk: LiftFad Industrial L-Shape Writing Desk
What Are the Best Japandi Desk Designs of 2023?
Below is my list of favorites. I include a few standing desks because they improve productivity. Standing at a desk now and again keeps your body more comfortable throughout your day and brings a fresh outlook so you get more done. Metal can be seen as a natural material, so it still counts as a Japandi material, but if you prefer an all-wood desk, I include a few in this list.
1. Euri Height Adjustable Standing Desk
Best Standing Desk with Storage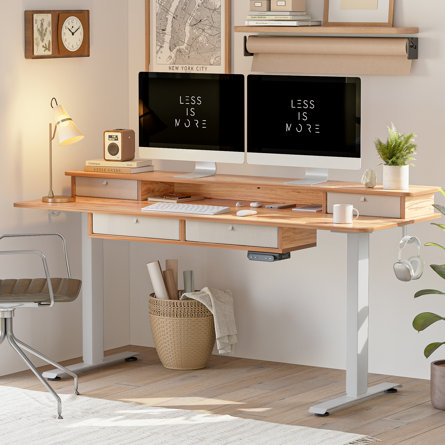 Image: Wayfair
About the Desk
This desk's beautiful wood and clean design exude Japandi style, and the added functionality with the attached drawers and ample-sized monitor shelf provide quick and comfortable access to what you need to get the job done, one of the traits of Japandi. You even get a hook for your earphones.
The light tones add a calm feeling to the room, encouraging a tranquil and stress-free work environment. It is a pain to put together, but you'll be happy with it once you are done. If you prefer a darker setup, this desk should do the trick.
What I Think
If you love clean Japanese and Scandinavian design (the primary elements of Japandi) and are looking for a standing desk, this is the one for you. It is the ultimate workstation for getting things done, and you will look good doing it.
The drawer faces are actually cloth and have more of a tan tone than white, but both traits only add to the Japandi feel. If you are looking for a similar option that is especially strong if you use monitor arms instead of the shelf, see my article on the best desks for dual monitors.
Pros & Cons
Pros
Beautiful example of clean Japanese and Scandinavian design
Quick access to desk accessories and work tools
Standing-desk capability
Cons
Cloth drawer fronts are on the simple side but are still attractive and useful.
Needs a better instruction manual for installation
The drawers are a bit tanner than shown in the photos
2. Riverside Benches Adjustable Standing Desk
Best Standing Solid Wood Top Japandi Desk with Live Edge
Image: Riverside Benches
About the Desk
This is an interesting find because it is sold on Wayfair but cheaper through the original maker shown above. The metal legs of this standing desk come in either white or black. Since the top is solid wood, color variation will vary – sometimes significantly. That said, the wood will lighten up over time if in a light area of the home. You can order this desk with a drawer or keyboard tray.
What I Think
This instantly injects Japandi style into your home office, and the wood is organically beautiful. I recommend not attaching the keyboard tray if your order comes with one. It seems like a rushed addition. You can still type on the top comfortably. The drawer is a useful addition and adds to the look.
Pros & Cons
Pros
Gorgeous live-edge top
Standing design for more comfort
Optional keyboard tray or drawer additions
Cons
Since the top is real wood, the exact color may not match that shown in the photos
The live edge may require you to skootch up closer than typical for comfortable typing
3. Rowan Desk
Best All Wood Japandi Desk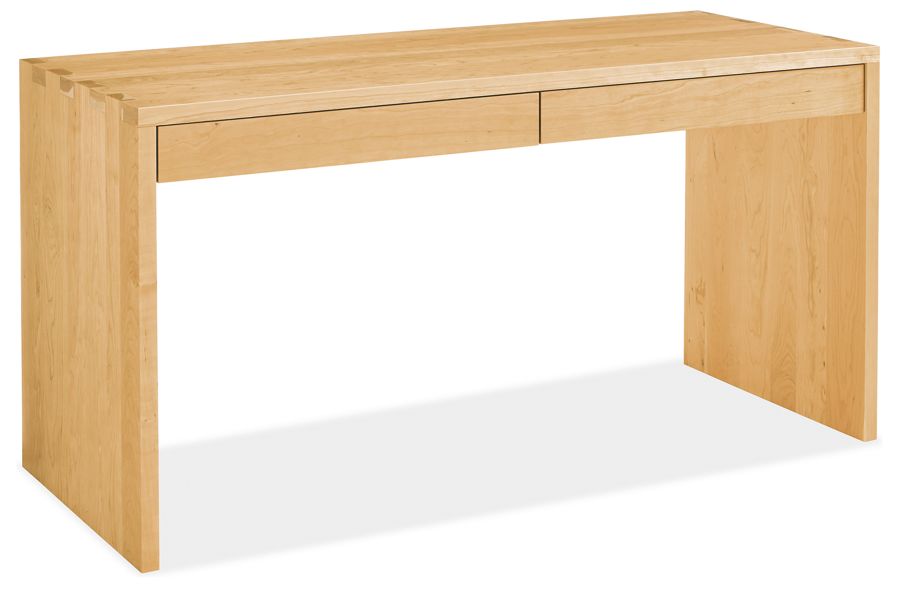 Image: Room & Board
About the Desk
This desk by Room & Board combines some of the more linear minimalist qualities of Japanese and Scandinavian design while showcasing the joinery prominently for an added Japandi vibe. The solid wood material and durable construction create an enduring workplace without fear of damage. If you scratch it, simply sand it down.
You also get two large drawers for storage, including slots in the back for wiring to charge electronic devices away cleanly. If you don't like the desk's color in the photo, you can choose from five other color options.
What I Think
With the world selling less and less solid wood in furniture, this all-solid-wood design is a treat. It is an enduring choice, both in terms of material and design. The clean lines and well-sized drawers make it both beautiful and functional. The exposed joinery adds a wabi-sabi touch. And with six colors, you can easily find the right desk tone for your home office.
Pros & Cons
Pros
Well-sized desk
Solid wood
Two drawers
Exposed joinery for a Japanese touch
Cons
The clean design may read as simple for some users, but the joinery makes up for it.
4. Kara Rustic Lodge Drawer Desk
Best Japandi Desk in Solid Wood With Storage
Image: Kathy Kuo Homes
About the Desk
Japandi is often associated with a grounded, sturdy aesthetic and rustic appearance, and this desk exemplifies all these traits. The solid wood and thick, organic shape put you on a firm foundation at work. The drawer aids with storage, and the top is large enough for comfortable working. Comes in two colors: brown or black. You also get a well-sized drawer to hold most go-to office products you need.
What I Think
I love the creative and simplistic design, the aged wood look, and the fact it is solid wood – an increasingly rare feature. The drawer also provides ultra-clean storage for a minimalistic look. It is expensive, but financing is also available.
Pros & Cons
Pros
Solid wood
Solid appearance
Two colors: brown and black.
High price
Lasting durability
Cons
It may also be too heavy of a look for some users.
5. LiftFad Industrial L-Shape Writing Desk
Best L-Shaped Japandi Desk
Image: Litfad
About the Desk
This desk blends functionality and design beautifully. You have plenty of room to store any work supplies, including your printer and computer, and still have ample workspace to accomplish other tasks. You can even collaborate with another person on the same project comfortably. It also pairs perfectly with long shelving. Everything you need is sure to have a home.
If the size in the picture is too large, not to worry; the desk comes in 15 sizes.
What I Think
The beautifully tapered legs and rounded edges bring a soft touch that relaxes the eye, and the natural wood grain exudes a natural look. This is a truly stellar blend of functionality and attractive design. And with so many sizing options, its benefits can work in any sized room.
There are no drawers, but you may not need any. Files can be stored on the tabletop in a clean container, and there is plenty of room underneath for a separate file or drawer cabinet.
Pros & Cons
Pros
Ample desk space for any task
15 size options
Large size allows for improved work collaboration
Soft edges and tapered legs relax the eye
Cons
No attached drawers.
---
What Is a Japandi Desk?
A Japandi desk blends Japanese and Scandinavian design themes. The two styles are similar in that they value clean, minimalistic design, organic undertones, and natural materials to create a calming space for improved mindfulness and clarity.
The difference in the two styles comes mainly from the Japanese side of Japandi, which strongly emphasizes grounding you while you work. It often features more durable natural themes, such as thicker materials or raw finishes, or by exuding transcience in its design. Japanese design finds value in imperfection, often shown in slightly imbalanced designs or slightly used or damaged appearances. It is similar to wabi-sabi design.
To learn more about Japandi, see my articles on Japandi Interior Design and ways to create a Japandi home office.
What are the Benefits of a Japandi Desk?
The wonderful thing about Japandi is that the style is more than just beautiful. The items are highly functional, and the look and attributes encourage usage. An ideal desk also has these qualities, making Japandi a tight match.
The blend of performance and beauty also creates a place you want to stay longer, helping you get more done.
Buyers Guide: How I Conducted My Research
Since Japandi blends beauty and functionality, I kept in mind the desks should be truly functional in a home office setup. It should hold up to use, provide quick access to what you need, and exude Japandi's blend of Japanese and Scandinavian design. Some key elements I looked for were:
Wood in its construction
Comfortable workspace
Attached storage or ample room to include other storage additions
Design durability
Monitor space
A streamlined, minimalist, and slightly organic look
Japandi Desk Designs: The Perfect Solution for Enduring Work Performance
Japan's belief that there is beauty in history makes Japandi design the perfect aesthetic for getting things done. You maintain easy access to what you need and don't worry about items looking brand new over time; aging becomes part of their beauty. Combined with its physical beauty, a Japandi desk is ideal for staying productive.
FAQ's:
What is the difference between Japanese and japandi?
Japanese design often includes traditional aesthetics and culturally-aligned elements, while Japandi focuses on modern design, blending Japanese minimalistic style with a Scandinavian modern aesthetic for a natural, calming, look.
What are the characteristics of japandi furniture?
The style features simplicity, clean lines, neutral tones, and natural materials. It joins Japanese craftsmanship with a minimalistic Scandinavian twist. Items are also purposefully chosen, and wabi-sabi is often used as an underlying theme.
What are elements of japandi style?
Muted earthy colors, minimalistic layouts, and organic shapes and materials are all common in Japandi. Natural living and clean design are overriding themes. Wood, stone, metal, and natural textiles are common, with wood being the most common material.