5 Best Mid-Century Modern Desk Designs: Form Meets Function
If you are shopping for mid-century modern desk designs, you are lucky because many original desks are still in production. You can own some of the purest examples of mid-century style without buying a vintage desk.
I have a long history with mid-century design as an interior designer and salesperson. In fact, my entire professional and personal life has revolved around it. In my article on mid-century decor, I do a deep dive into the history and traits of the style and show how it has been an integral part of my life, including in workspaces. I have first-hand experience with many authentic desk designs.
Whether you want to create a work-from-home desk setup that excels in small spaces or a full-sized corporate office setup, these classic desks are perfect examples of the style's form and function.
Without further ado, here is my list of the best mid-century modern desk designs manufactured today.
Please note that some designs may contain affiliate links. As an affiliate, I may receive a commission for recommendations or purchases made through links on my website without any extra cost to you. For more information, please read my disclaimer.
Summary
What Is a Mid-Century Modern Desk?
A mid-century modern desk (MCM desk) is a highly functional desk with a less-is-more aesthetic. The designs are dialed down to their most basic elements and are meant to be used, not just admired. They also promote a connection to nature through their shape, use of materials, or both. Many designs are also quite playful, either in style or function. They often feature wood in their designs but may blend other materials like metal and marble.
the Best Mid-Century Modern Desk Designs
Here is a breakdown of the best mid-century classic designs and reasons why I chose them.
Best Durable Mid-Century Modern Desk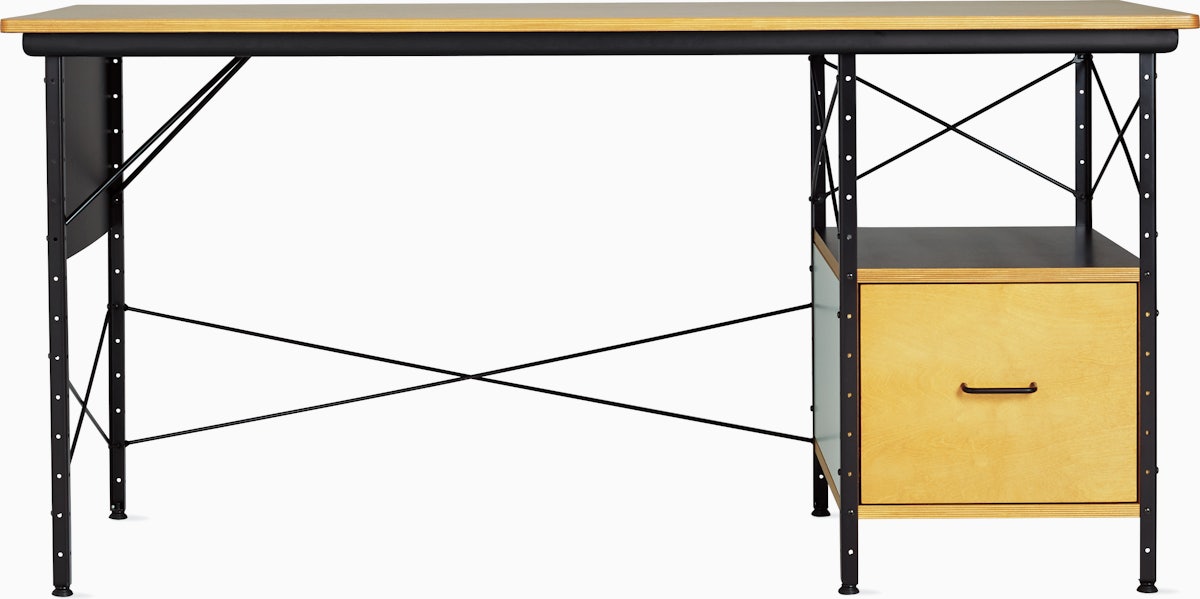 Image: DWR
About the Desk
The Eames desk unit was designed by the famous mid-century modern design duo Charles and Ray Eames. The desk follows the same look and feel as their home, Case Study Home #8, by featuring a minimalist metal construction and colored panels.
The desk showcases the benefits of improved mass production techniques of the time by letting you personalize the desk. You can choose between two metal frame colors – black and zinc – and two wood color versions: natural and multicolor. It also comes in left and right-handed versions. The simplified construction also makes it the most affordable desk on this list.
What I Think
In my time in sales, I was lucky enough to work with this desk and was surprised by its durability and sturdiness. It felt like the ultimate work desk begging to take on tasks. The size also worked well for writing and typing on a computer.
At first, I had some difficulty getting past the look of the crossbars, but I didn't pay much attention to it once I discovered how well it functioned. I got a lot done at this desk.
Pros & Cons
Pros:
A mid-century modern classic
Comfortable size for working
Sturdy construction
Two color options: natural or multicolor
Left and right-handed versions.
Cons:
The look of the crossbars may not be an ideal look for some users.
Best Dual Writing and Computer Desk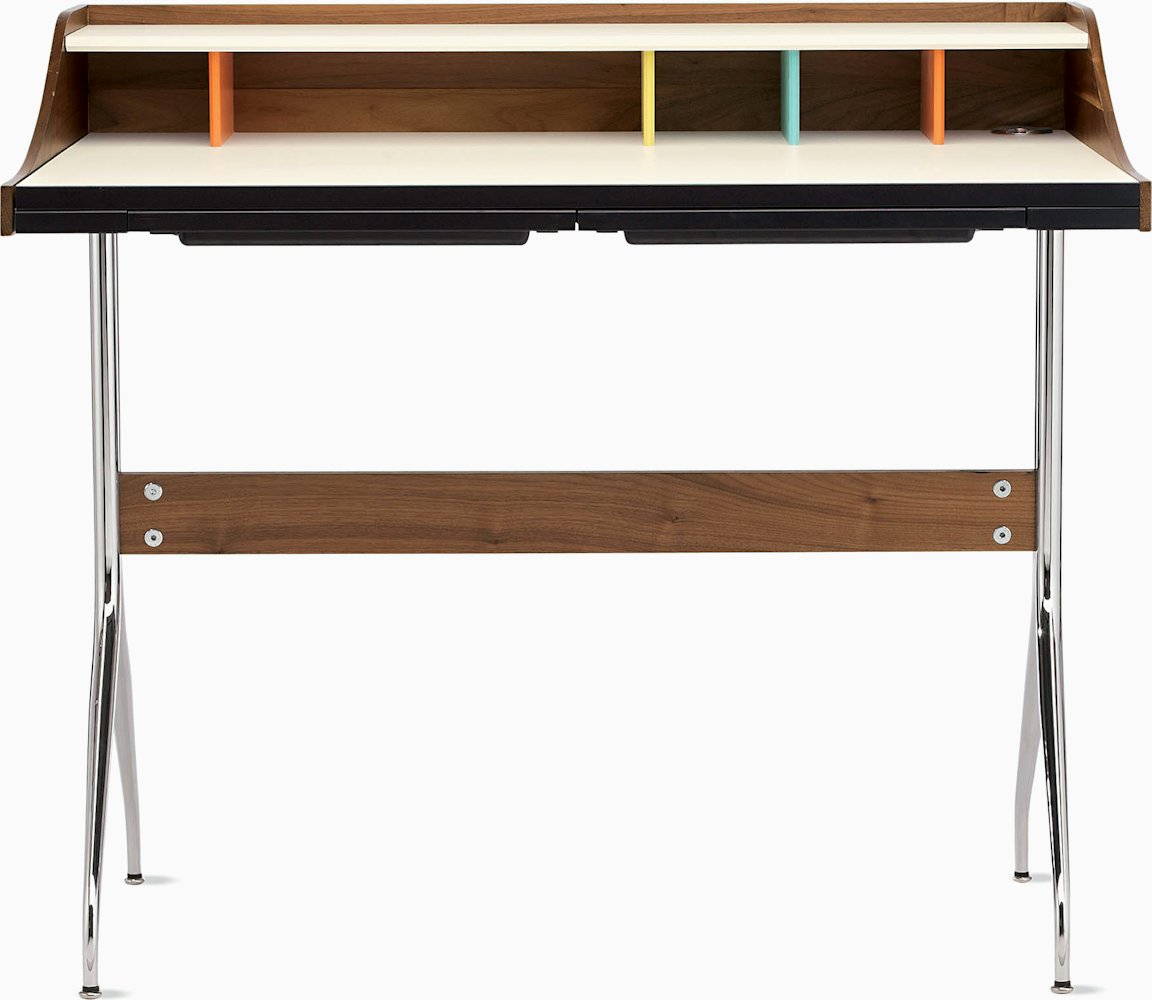 Image: DWR
About the Desk
George Nelson is a famous mid-century designer well-known for this desk and his Bubble lamps and clocks, which go beautifully with the desk. The colored dividers create accessible storage compartments and feature mid-century color trends that complement the surrounding walnut – another common MCM material. The desk blends functionality and a streamlined aesthetic.
What I Think
I have worked on this desk and found that I got a lot done in a small footprint. The shelf also holds a computer effectively. You will need room for a file drawer, but a rollable drawer can scootch up to it. You will benefit from cord management to keep an ultra-clean look. A light bar also minimized clutter.
Pros & Cons
Pros:
A mid-century modern classic
Beautiful blend of design and functionality
Cons:
It is compact
You will need cord management to maintain a clean look.
Best Blend of Compact and Elegant Design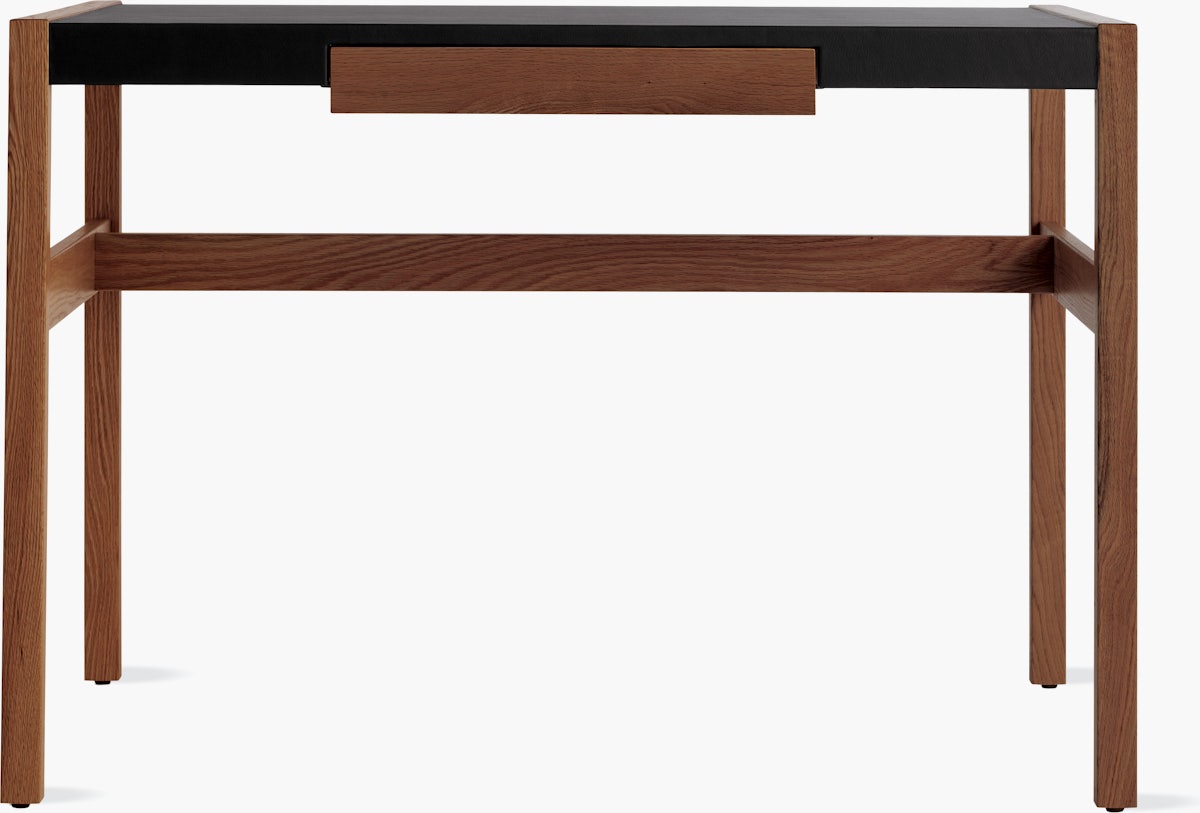 Image: DWR
About the Desk
This leather and wood desk is unique because it is a more recent modern design from a mid-century master, Jens Risom, for DWR. The design features solid wood, and the leather top runs almost entirely across the top for an ultra-clean look. A small drawer in the center provides adequate storage for pens, post-its, and a notebook.
What I Think
I used to work at DWR, and this desk was by far my favorite, even though its size is smaller than other desks. The leather top and solid wood exude sophistication for a rich mid-century vibe. The leather top was also fun and ultra-comfortable to work. I found it to be a perfect laptop desk.
It was a comfortable and luxurious place to work throughout the day, even at its small size. It is an excellent choice for a small work-at-home office. You can maximize the usable area by using a light bar. The drawer is a helpful touch, easily big enough for go-to items.
Pros & Cons
Pros:
A newer design by a mid-century master
Beautiful materials
The leather top is ultra-comfortable for working
Ultra-clean mid-century design
Cons:
Small footprint.
Thin legs cause a bit of back and forth, but it is still comfortable for working.
Best Storage in a Sleek Design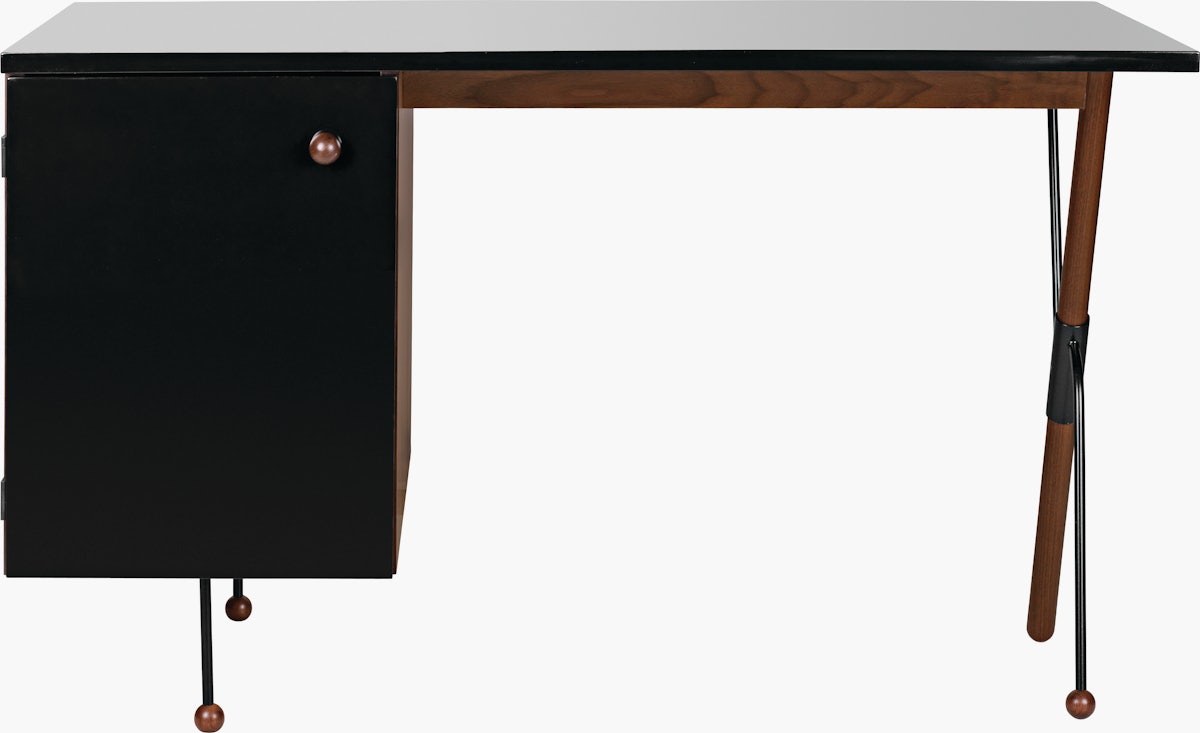 Image: DWR
About the Desk
Greta Grossman was a Swedish interior designer, architect, and one of the most renowned female mid-century modern designers. She is most famous for her Grasshopper lamp series, and her 62 Series desk sits on similar legs. Still, the desk is sturdy enough to hold two drawers and a filing cabinet. The desk showcases the classic black and natural wood finish mid-century design is known for. It goes beautifully with her Grasshopper table lamp, which is included in mist list of favorite mid-century desk lamps.
What I Think
Like other designs by Grossman, this chic desk stands like a functional work of art. Mid-century modern is known as much for its fun aspects as its beauty and functionality, and this desk showcases all of these aspects beautifully. It may be small, but there's a lot going for it.
Pros & Cons
Pros:
A playful and yet artistically beautiful piece
More storage than any other desk on the list
A beautiful representation of mid-century style
Cons:
It may be a bit small for some workspaces (47″ wide)
Best Classic Mid Century Style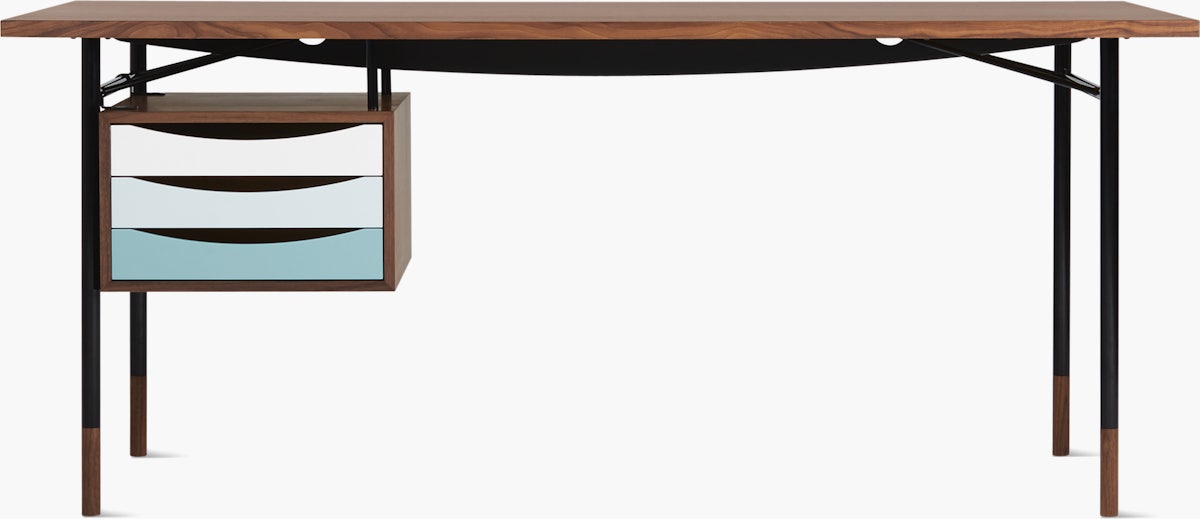 Image: DWR
About the Desk
This is another mid-century classic and one of the finest examples of mid-century style. Created by Danish designer Finn Juhl, it has a graceful yet streamlined shape and features wood and metal in its design fur durability. It also has three drawers in enduring mid-century blue tones. The curve of each drawer front doubles as a drawer pull.
The designer also made a matching console table in additional colors.
What I Think
[Write a quick overview of the product]
If I were going full mid-century-modern in my home office, this would be my choice. I would include the cabinet to complete the look. The drawers are fun to use, and the desk's blend of size and drawered storage are enough for getting real work done.
Pros & Cons
Pros:
A beautiful example of mid-century style
The soft blues bring added intrigue
The metal frame ensures enduring usage
Cons:
Only one opinion for drawer colors (unlike the matching cabinet)
Let's Sum It Up
So there you have it, my list of the best mid-century classic designs still made today. Here is another quick breakdown to help you in your final decision:
If you are looking for an ultra-durable desk that keeps you focused on the job at hand, I recommend the Eames Desk Unit.
If you are looking for a small-sized writing desk that keeps you organized without sacrificing the more fun aspects of mid-century design, the Nelson Swag Desk is the best choice.
For a truly comfortable and inviting work experience in an elegantly streamlined look, the Risom Desk is a smart choice.
If you need a desk with adequate storage and want your workspace to stand out like a work of art, the 62 Series does both beautifully.
If you are ready to dive into the best blend of design and functionality, including a separate matching cabinet, the Nyhaven Desk is the right choice.
---