7 Best Pegboard Designs of 2023 That Actually Look Good
Pegboards are excellent solutions for storing the tools you need to get your job done. This makes them a smart addition to any home office setup. Still, many look cheap. Don't they deserve to look smart too?
They do. Pegboards can double as attractive backdrops to your accessories, showing them off in all their glory and simultaneously improving the look of your room.
I have a long history in interior design, own a home office blog, and work from home, so this topic is close to home – literally! Who better to take on the challenge?
Here are the best pegboard designs out today that blend functionality and beauty. Whether you use a pegboard in a home office, crafting room, or garage, these designs store your items in style.
Please note that some designs may contain affiliate links. As an affiliate, I may receive a commission for recommendations or purchases made through links on my website without any extra cost to you. For more information, please read my disclaimer.
Summary:
What are Pegboards?
Pegboards are flat boards with holes or notches that hold hooks, shelves, containers, and other compatible tools. They are designed to provide easy access to all your devices. Many boards are screwed into walls, but others attach to walls with adhesive, hang on doors or cubicle dividers with brackets, or stand on tables and desks with the help of small legs or clamps.
Pegboards can be small, stand-alone items or positioned alongside additional boards to decorate an accent wall. In addition to tools, they can work as an engaging backdrop for keepsakes, decorations, or hobby items for that next work Zoom call.
The point of pegboards is that they provide ample flexibility in usage and storage for anything you like.
Best Pegboards That Actually Look Good
Here are pegboards that excel at their jobs and make you look good along the way.
Best Overall Pegboard
Image: Etsy
About The Product
This is the company you need if you are looking for quality, attractive pegboard in a ton of options. One look at the company's Etsy page, and you can see this company is passionate about creating attractive pegboards.
Choose from a full range of designer colors and numerous designs. One features a diamond-shaped 3D carving that helps disguise the look of the holes. You can even purchase a large rainbow design for the kids! The pegs fit inside each shelf for an ultra-clean look, and all cups and shelves are high quality – not your typical cheap look.
They also offer watch holders, bars to suspend items on hooks or clips, a mirror, Lego-like connecting boards to create cubbies, and narrow and deep shelves, the deeper design suitable for holding books sideways.
You can even create a Rube Goldberg machine for fun. They even offer small Bluetooth speakers, pixelated art, and lettering. Enough already!
What I Think
This is an excellent one-stop shop for everything pegboard-related, and the quality and range of colors are something you will be proud to show off. They are sure to add to the design of your room.
Pros
Attractive designer colors
Multiple sizes
Massive number of usages and accessories
Quality construction
Intelligent designs
Cons
You will need to pay for each accessory you want, but still, the pricing is fairly reasonable for the quality you get compared to other options on the market.
Best Luxury Pegboard Design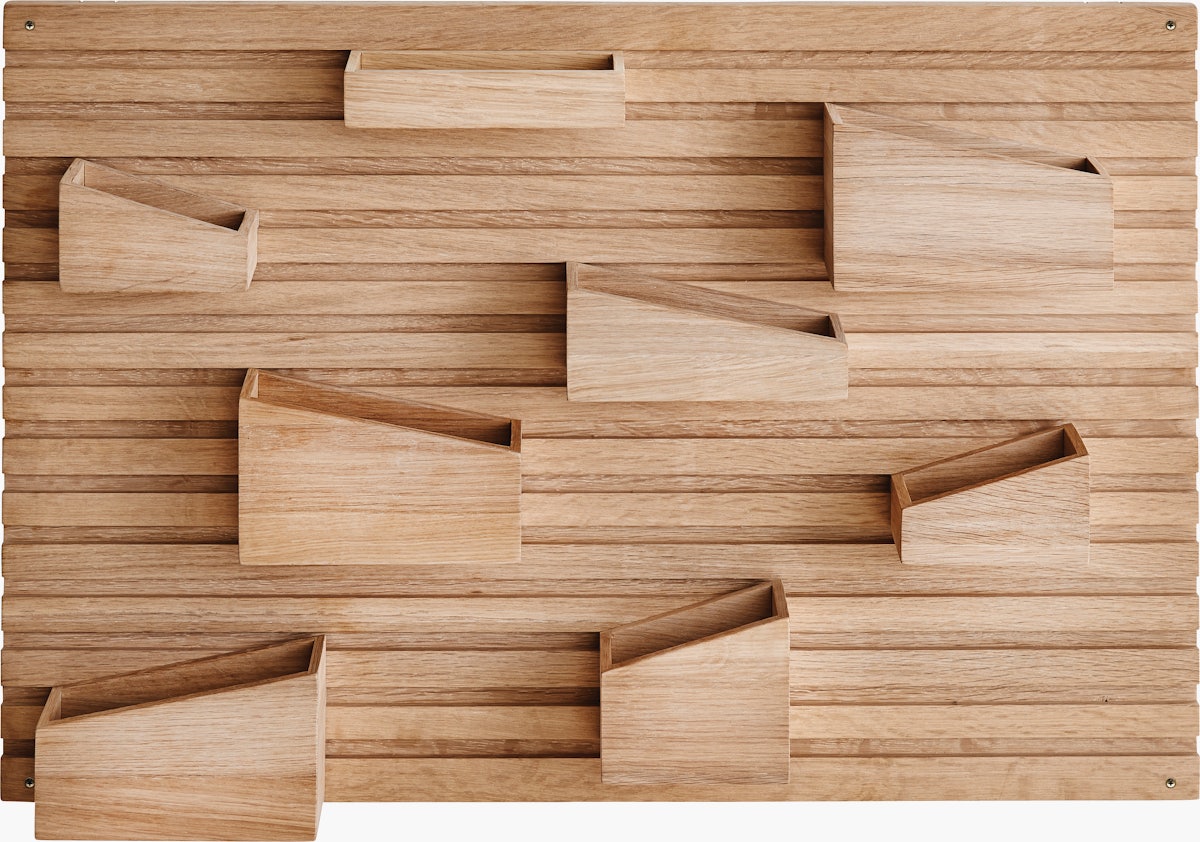 Image: DWR
About The Product
If you are a design enthusiast, this is the one for you. Like all DWR products, this organizing system is beautifully crafted, durable, and intelligently designed. It is made from solid oak (a rarity these days) and features eight compartments in varying depths for storing different-sized items, and you can move the boxes around freely. The size comes in at 17⅜" H 26″ W 2¾" D, and since it is solid wood, the screws are relatively small for mounting.
What I Think
The design is top-notch. The clean, minimalist look of the slats and angled boxes make this pegboard something you will enjoy looking at throughout your day. It would go beautifully with any Scandinavian, Mid-Century Modern, or Japandi office designs or any other themes that evoke a natural edge. And the quality is there.
Unfortunately, so is the price. It is nearly $500. But if you have the funds, having this beautiful, solid wood design near your desk adds a luxurious touch while keeping you more organized.
Pros and Cons
Pros
A clean, minimalist look
Intelligently designed
Solid oak
Cons
High price
Can't purchase the containers separately
What you see is what you get
Best Masculine Pegboard
Image: Wayfair
About The Product
Want to exude manliness? This one tops the bill. This design comes in a whopping 12 color options, including all-black for masculine desk setups. It is also well-sized at 48″ x 32″ x 9″ (when shelves are attached) and comes in three parts, allowing you to make it smaller or break up the design. The thin, vertical grooves are a cleaner solution than round pegs, helping you maintain a sleek look. It comes with six shelves, and each panel set alongside each other allows for a neat row of shelving across the piece. You also get vertical dividers that work as bookends or safety edges to keep things from falling off the sides.
What I Think
The black look is a great option if you are looking to create a masculine desk setup. It does have a bit of an industrial look, though – especially in the gray and white versions. Black will be your cleanest option unless you decide to paint the screws to match the other colors.
Pros and Cons
Pros
Clean metal design
All-black works great for masculine setups
Comes in three parts for easier sizing along the wall
Cons
Gray and white appear less luxurious / more utilitarian
Best Versatile Pegboard
About The Product
If you want maximum versatility in your pegboard, this is your option. It can be displayed in four different ways:
Set it freely on your desk
Mount it to the top of the desk
Set it on a wall
Hang it over the edge of a divider or cubicle wall
It comes in multiple sizes and colors for the board and the accessories, letting you mix and match however you like. No other option on this list offers more flexibility in usage. You can also choose ultra-small options that bring a less cluttered look to your office while still being able to add more items later to expand your storage.
What I Think
This great pegboard solution keeps necessities close at hand without overwhelming the look of your desk or workspace. You can also get creative with the look by mixing and matching colors, allowing you to change up the look over time. The edges of the boards are not square, so you will have a checkered appearance when mounting multiples together, but separating them a bit actually adds to the look.
This option is rather expensive for the sizes (starting at $200 for the smallest board), but it may be just the decorative touch your room needs.
Pros and Cons
Pros
Four display options
Compact
Unobtrusive
Brings a welcome pop of color (if desired)
Cons
A high price for the size
Best Minimalist Shelving
About The Product
This option is as clean as they come. If you have ever shopped for guitars or tools, you may have come across this design. But why do they get all the fun? It works just as well in your home and comes in many colors to match your room's look.
You can use it along an entire wall to resemble wood paneling or place it on an accent wall behind your desk to display various mementos and awards during your next Zoom call. You can even hang a picture over it and use the remaining space around it for storage.
The wood has a sheen to it despite being listed as natural wood, so be prepared for possible faux wood. The pegs and shelving are sold separately.
What I Think
This is a clean solution, and the fact it doubles as wall paneling and a pegboard makes it extremely useful. You can load it up with shelving or keep it as it is. Either way, you improve the look of the room.
If you plan to display shelving, you must purchase them separately. Amazon sells options, or you can cut wood and stain it to match. A bit more work than others, but the look is so good that you may find it worthwhile.
Though it lists natural wood in its materials, be prepared for it to be not-so-natural on the outer surface.
Pros and Cons
Pros
Ultra-clean design
Doubles as wall paneling
Improves the room's look with or without shelving
Cons
You will need to supply your own shelves and pegs
Best Shelf Design
About The Product
Want a creative look in your pegboard while still exuding a less-is-more aesthetic? This one is worth considering. This is another natural wood product with a natural finish. The design celebrates craftsmanship with its solid wood design and unique construction. The carved bottom edges of the shelves set the shelf snugly on the pegs, bringing a craftsman/Japanese look.
This product comes with six pegs, three shelves, and a large wood and metal basket (two baskets for the larger size). The board comes in two sizes, and the edges of the board are square, allowing you to add more pegboards cleanly. You can go as big as you like.
What I Think
The design is clean, the natural look is appealing, and the carved bottoms of the shelving are nice to look at. You can also opt to use the holes in the wood to set your screws, helping to hide the look of the screw heads.
This is a great option to add a natural touch to the room, especially for modern Scandinavian, Japandi, and minimalist spaces. That said, the addition of the round pegs ensures that the look of this pegboard works for most home designs.
If you prefer a look with fewer seams, the next one on this list may do the trick.
Pros and Cons
Pros
A clean, natural look
The squared edges mean you can expand on the look easily
Plenty of hook and shelving accessories
Cons
Only comes with the number of pegs and shelves listed
You will need to drill through the wood to mount it
Best Large Wood Pegboard
Image: Etsy
About The Product
Go big or go home…or go big IN your home. This pegboard brings the natural look of wood like others on this list but in three massive sizes and with heavy-duty pegs and shelves. You won't have to worry about storing heavy items on this one.
The large sizes also mean the final look has fewer seams, adding an even cleaner touch. And since it is true wood, you even get the beauty of large grain patterns. As a result, you may only know exactly how your board will look until it arrives at your door, but that's a risk worth taking. Consider it a wabi-sabi addition to your workspace. There's beauty in imperfection.
It comes with 9 pegs and 8 shelves at varying sizes for added appeal (and added wabi-sabi!) And unlike other options listed here, you can order more of each!
What I Think
This is a truly functional pegboard, and the beauty of the natural wood is hard to beat. You will need to drill through the wood to mount it, but once it is up, you will be hard-pressed to find something that exudes a natural look in such a large footprint. At the same time, the different shelf sizes add visual interest while still having a minimalistic look overall.
Pros and Cons
Pros
Beautiful natural wood
The beauty of large wood grain
Durable shelving
An organic touch to any room
Cons
It may be too large for some users
Screwheads show once installed (unless you putty over them)
Wrap Up
And there you have it, my picks for the best pegboard designs out today. No matter what colors or tones you prefer and what accessory storage option you need, you are sure to find a pegboard here. And for more useful home office tips, check out the other blogs on my website.
Happy working!