9 Best Mid Century Modern Desk Lamp Designs: Beauty That Lasts
If you are looking to add a desk lamp to your home office setup and love Mad Men style or less is more aesthetic, then "you have arrived." And I'm glad you did because I love it too.
I have had a ton of exposure to mid-century style as an interior designer and in my work with a mid-century-inspired furniture manufacturer. I also worked for Design Within Reach, which tops the list of sellers offering authentic mid century design (and a subsidiary of Herman Miller, a chief manufacturer.)
Many original designs are still made today, and many new desk lamps follow the style's basic principles. Here, I put myself to the test by laying out today's best designs. And if you are new to mid-century style and want to learn more about it, you're still in the right place. I have more info toward the end of the page and a whole article devoted to mid century modern interior design.
Without further ado, here are the best mid century modern desk lamp designs today, according to me.
Please note that some designs may contain affiliate links. As an affiliate, I may receive a commission for recommendations or purchases made through links on my website without any extra cost to you. For more information, please read my disclaimer.
What is a Mid Century Modern Lamp?
It's a lamp that follows mid century modern design principles. Factors include:
A simple, minimalistic aesthetic void of ornamentation
Minimal use of materials
A design that is true to the materials (purity in application)
Intelligent engineering
Use of mid century materials like wood, metal, glass, plastic, and marble, or blends of each
In many circles, you will hear attributes like excellent performance, quality materials, and quality construction/durability. Those qualities aren't mandatory but are a massive part of the style's history. Many of the designs were born from intelligent blends of innovation and design and were built to last, which was pretty expensive, making them status symbols within important rooms.
You can find knockoffs and new designs of a similar aesthetic. Knockoffs are often poor quality. Some new designs are excellent and, like older designs, take advantage of technological advancements in their functionality and look while preserving the style's essence. For instance, LED bulbs produce longer-lasting light in a smaller design and at a lower energy cost.
Best Mid Century Modern Desk Lamps
Here are the best designs today, including some classic pieces still made today and new options that follow the same aesthetic with the benefit of new technologies. Many of the lamps pair beautifully with my list of the best mid-century modern desks.
Isaac Desk Lamp
Best Mid Century Modern Lamp with Round Shade
Image:Schoolhouse
Why I Like It:
Round shades made of metal were common in the mid-century, blending minimal materials and the functionality of shade from the bright light. The trick is finding one that adjusts so the light doesn't pierce your eyes. This is one of the cleanest I have seen. You can order it in 20 colors, which is remarkable. You are sure to find a color that works well with your setup.
You will need to switch on the lamp by accessing the cord, and that same cord detracts from the look slightly, but it's still a work of art.
Pros and Cons
Pros
Round shade option that doesn't cause glare to the eyes
A wealth of color options, including contemporary colors
American-made (manufactured in Portland)
Cons
The cord sits high on the piece, pulling away from the look
Grasshopper Table Lamp
Best Mid Century Desk Lamp with a Low Profile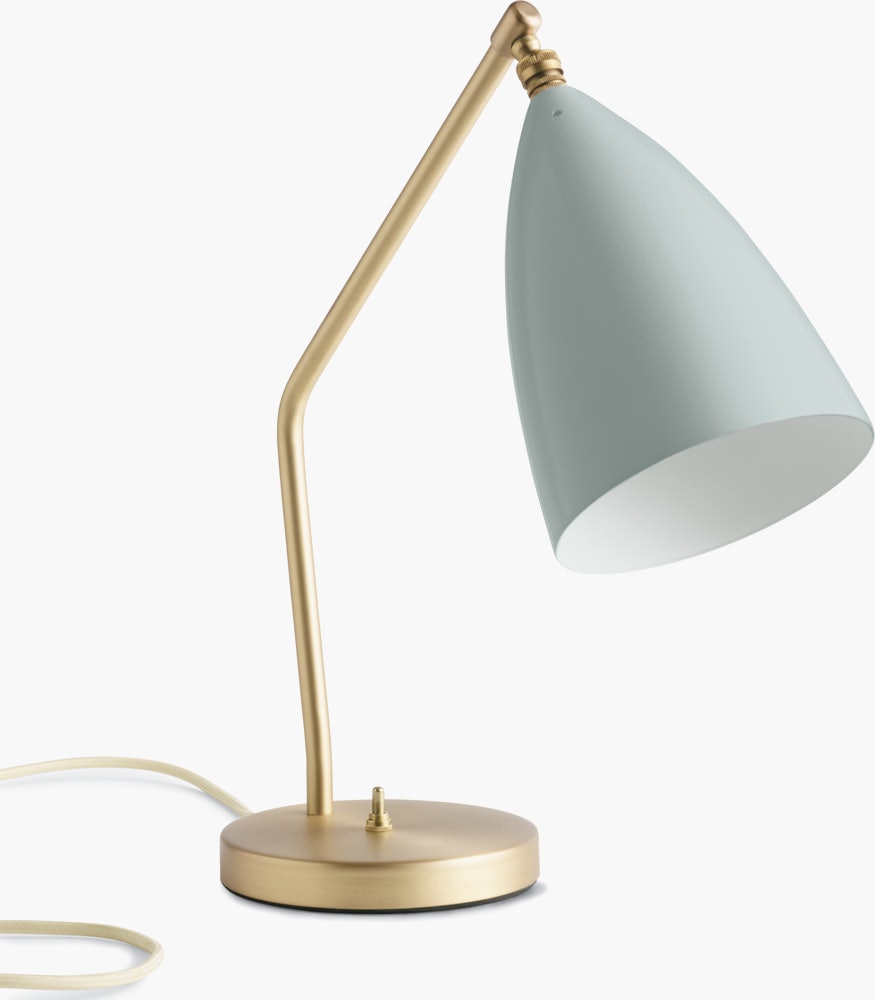 Image: DWR
Why I Like It
The Grasshopper lighting by Swedish architect Greta Magnusson Grossman excels at mid century aesthetic. It is a simple, streamlined design that still exudes elegance thanks to the blend of finishes and construction.
This light is low to the table, making it a good option for minimizing visual disruption near your monitor. It also comes in a full range of beautiful colors that blend with mid century furniture designs.
The shade can be hot to the touch, so try to set it where you don't have to reposition it. You can extend the look within your workspace with the architect's matching hanging pendant and floor lamp. However, the floor lamp legs can be a surprising tripping hazard unless positioned safely.
Pros and Cons
Pros
Gorgeous blend of style, color, and finish, making it one of the best mid century design lighting options
Matching hanging pendant and floor lamp
Cons
Hot to the touch
The low profile limits the amount of light
Denmark Kaiser Idell Engraved Table Lamp
Best Mid Century Desk Lamp with Saucer Shade
Image: Lighting Forest
Why I Like It
Bauhaus silversmith Christian Dell designed this lamp in 1931, and the beauty still holds today thanks to faithful reproductions through Fritz Hansen. If you love interesting design features of the past, this lamp featured a swiveling joint to adjust the light, a revolutionary idea at the time. The same light comes as a pendant and floor lamp.
The shade casts the light downward rather than into your eyes for calm, beautiful light, but if you angle the shade upward, the bulb is surprisingly in your face. Also, larger bulbs can show through the bottom, pulling away from the look, so go small if you can. You can order it in four colors: white, black, red, and green – all in a beautiful glossy finish.
Pros and Cons
Pros
A mid-century classic design faithfully reproduced by Fritz Hansen
Four color options
Cons
A large lightbulb can show from the sides, pulling away from the look
If the shade is lifted upward, the exposed bulb can cause a bright glare.
4. Nourison 16″ Gold Lamp
Best Mid Century Modern Lamp in Mushroom Shape
Why I Like It
This is not a mid century classic, but it should be. The minimalist design stays pure in its material application and uses one finish for an ultra-clean look. It comes in multiple colors and finishes, making it easy to find one you love. This is impressive because it is the least expensive light on the list.
The light casts downward and doesn't intrude on the eyes, making it perfect for your desktop, though this light is better for soft light rather than sharp, direct light. The switch is on the cord, which may be a hassle for some of you, but it helps the light maintain its beautiful look.
Pros and Cons
Pros
Lowest price on this list
Beautiful blend of minimalist design and honesty in materials
Multiple finishes and colors to choose from
Cons
This is best suited for desks that need mostly ambient light, not sharp, direct light.
The switch is on the card, making turning it on and off uncomfortable at your desk.
Cambria Adjustable Desk Lamp
Best Mid Century Modern Lamp with Irregular Shade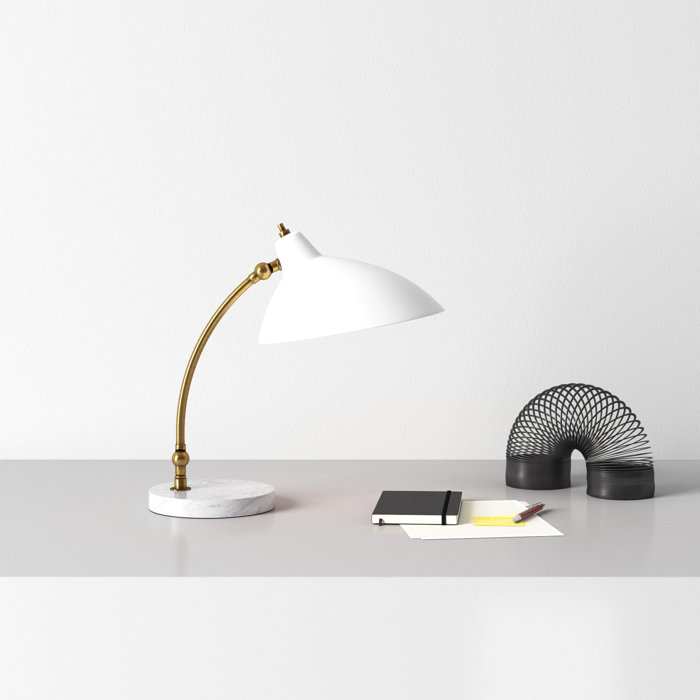 Why I Like It
The Cambria Adjustable Desk Lamp is similar to the Christian Dell lamp but features a slimmer design and irregular-shaped shade, a trait of some mid century design styles. It is one of the few lamps with flourishes. Still, it gets away with it by making them part of its functionality of dispersing light while reducing eye glare. The white stone also picks up on mid-century designs like the Arco Floor Lamp.
The lamp shade seems to reach out to your notebook, bringing adequate light while shading your eyes from the glare. This may not be designed during the mid century, but it still deserves its time in the spotlight.
Be aware that the shade becomes glary when the shade is tilted upward.
Pros and Cons
Pros
Gorgeous, irregular shape that adds intrigue to your desk
It wants to reach out and touch your notebook, providing adequate lighting
Cons
When the shade is angled upward, you can experience the same glare issue as the Christian Dell lamp.
Adesso 3234-01 Lamp
Best Mid Century Modern Gooseneck Lamp
Why I Like It
Looking for something that oozes mid century style? Adesso's Draper Gooseneck Lamp is the option for you. The shade gives off a strong mid-century vibe and features wood along the top to match your favorite mid century wood furniture. Heck, the name is even a link to the infamous Don Draper.
The stem offers ample flexibility in achieving the right angle. This lamp is as fun to look at as it is to move. It also comes as a floor lamp and a two-bulb desk lamp, but the two-bulb version is too Batman for me.
Pros and Cons
Pros
Gorgeous design
Easy to rotate neck for precise light positioning
Old-world on/off switch on the base
Also comes with a floor lamp option and a two-shade desk lamp option
Cons
Not a mid century classic, but it may easily become one.
The two-bulb version is too wing-like (but the single-bulb version is great.)
Modern Banker Slim Table Lamp
Best Mid Century Modern Wood and Metal Lamp
Why I Like It
If you are a fan of cylindrical lighting, this one is your mid century friend. The sleek styling offers the benefits of LED lighting (long-lasting light and lower energy bills) and an ultra-clean look. The light shines down rather than across you for comfortable reading and writing. The faux wood pairs beautifully with the complementary gold stand and arm.
This lamp tilts up and down for a more expansive light but does not rotate, so you'll have to move it manually. Also, it does not raise and lower, which means it may collide with your monitor.
Pros and Cons
Pros
A gorgeous mid century option for a cylindrical light
A good option for comfortable reading and writing
Cons
Not true wood (plastic)
Tilts up and down only
The wide design may be awkward for some desk spaces
Pixo Plus Table Lamp
Best Mid Century Modern Metal and Plastic Lamp
Image: DWR
Why I Like It
Of all the mid century modern desk lamps I was exposed to, this was my favorite desk lamp for many reasons. One big one is that the light is smaller than many mid century desk classics (i.e., the Tolomeo, Trizio, Kelvin, etc.) In today's minimalist setups, particularly in home office setups, a large lamp intrudes on today's most-used desk accessory (the monitor), and the look of the light can pull away from today's desk's design. This one blends right in with everything. Unlike many metal designs, this one was also a comfortable temperature when moved and provided immense flexibility in positioning in a small footprint. I loved pushing the arm back and forth and the head frontwards and sidewards.
Pros and Cons
Pros
Excellent blend of small size, cool-to-the-touch design, and maximum flexibility
A sleek look and feel
Comes in a full range of colors, some with two color tones
Cons
If you are looking for a large lamp, this one isn't for you, but it's an excellent size for most desk setups.
Adesso ADS360 Desk Lamp
Best Mid Century Modern Lamp With an Adjustable Arm
Image: Lamps Plus
Why I Like It
Ultra-thin profile, and like the Gooseneck Lamp, this uses wood in its design for a more natural look and feel. The arm is easy and fun to move around, and the bottom on the top of the light cylinder is as clean as it gets for light switches. I enjoyed using this light at work. I could put a spotlight on anything I did and quickly move it when I changed positions.
The light is a bit tall, but in today's desk setups, the small footprint on the desk is a welcome addition.
Pros and Cons
Pros
Beautiful, simple design
Easy and fun to move and operate
Cons
The spotlight effect causes you to move it more than you would other desk lamps, which may or may not be an issue for your setup.
There You Have It: the Best Mid Century Modern Desk Lamps
If you plan to have a mid-century designed desk setup, the range of designs above should work with most setups. Not all are from the mid century, but they all exude mid century vibes while offering a quality look and the functionality you need for real work.
……
What is a Mid Century Modern Style?
The term is both a description of a style and the time it was created, the early and mid 1900s. A piece that uses that term may or may not be designed from that time.
Mid-century modern is often associated with "less is more" because it prioritizes a lack of ornamentation. It follows the mindset that simplicity has beauty, and the simpler the look, the better the design is. Today's minimalism can be seen as an extension of it.
Part of the reason for the style was advancements in technology that lifted barriers in engineering and styling. This produced a fountain of creativity where designers and architects experimented and pushed boundaries to create minimalist furniture designs. More options were possible, and the floodgates opened.
The pieces can be made in metal, glass, marble, or plastic, but of all the materials, wood is the most common due to its close association with Scandinavian design, which was new at the time and an instant hit thanks to its blend of natural beauty and simplicity. Though Scandinavian design often focuses solely on wood, mid-century pieces sometimes blend wood with other materials.
Mid century design ranges in color, but look particularly handsome in masculine tones, making them an excellent addition to your list of manly desk accessories.