6 Best Flooring for Home Office Spaces: Ground Yourself in Style
If you think of traits that make a home office comfortable and efficient, you may picture a quality desk, a comfortable ergonomic chair, and work tools close at hand. But another factor sits near your feet, and it creates a solid foundation for productivity.
Flooring has benefits that you can see, touch, and roll on daily, improving your performance and the look of your workspace so that you work there longer. It also enhances your home's look and makes it more inviting. The benefits lead to home values increasing anywhere from 3% to 5%.
As an interior designer, I often start by planning a room from the largest-sized items down, and flooring is one of the biggest considerations – literally. Everything else falls into place from there. When I installed flooring in my home office space, I could freely slide my chair around and truly get things done while feeling more at home for longterm work.
This article lists the best flooring for home office spaces. After reading, you should know which product works best for you.
Key Takeaways:
Location and color are important factors to consider before selecting home office flooring.
Hardwood flooring offers a timeless look but might require regular maintenance.
Laminate and vinyl are highly durable, low-priced choices with diverse designs, with vinyl excelling at water resistance.
Luxury Vinyl Plank (LVP) provides durability with a high-end appearance.
Tile flooring is durable and easy to clean but may be cold on the feet.
Carpet offers warmth and cushion but can stain and damage easily.
A Few Tips Before We Start
Due to the expense of buying and installing flooring, it's a good idea to lay a solid foundation for what is most important. Here are a few things to keep in mind before making your selection.
Settle on an Appropriate Space
The location of your home office may influence the type of flooring you'll need. For instance, it may be visible to nearby rooms or be a cold or warm environment, influencing the type of material you buy.
The right location is also vital for performance. Here are some traits of an ideal space worth considering. You can also check out my article on home office setups for a more detailed breakdown of traits.
Choose a quiet area of the home with minimal foot traffic. This helps with productivity and focus. It can be a guest room, nook, converted garage, or basement.
Select an area with natural lighting to reduce eyestrain and inspire daily productivity. If that isn't possible, include ample lamps and strip lighting in the room. For about lighting ideas, see my article on home office lighting ideas.
Ensure you have functional space for your computer, accessories, and other essentials. If you don't have much room, your desk setup, such as a corner desk, can help make the difference.
Think About Your Office Chair Usage
Your ergonomic office chair may come with wheels, and if you find yourself rolling around a lot, you may want to prioritize durability or, in the case of carpet, purchase a floor mat under your chair. The look and convenience of either can determine your selection.
Keep Color in Mind
The color of your flooring can influence which materials you buy. The same truth works the other way around; the color and furniture in your office can determine your wood color.
One tip for settling on a color is to create a design board, a collection of pictures, fabric, and wood samples of your furniture, decor, and wall colors. A design board helps visualize your home office before making any significant investments.
6 Best Flooring for Home Office Spaces
Once you have confirmed where you will work and the type of usage and colors you want, you can start shopping for materials. Here's a look at the various options available:
Hardwood Flooring
What I Think
Hardwood offers a classic, timeless appearance. Since it is solid wood, it is extremely durable and easy to repair and refinish. It also allows for diversity in color and grain patterns. It is becoming a rare flooring option due to the cost of solid wood and improved alternatives, but its scarcity also means it significantly adds value to your home when you decide to sell.
It comes available in various species, such as oak, maple, hickory, and walnut – each in different strengths and colors. The look brings an organic feel to a space, making it especially popular choice for biophilic and japandi home offices. They can also be stained in a broad range of tones.
Hardwood is prone to scratching, especially under rolling office chairs. Regular maintenance and refinishing is often needed to maintain a fresh look.
Pros
Strong material
Adds to the value of your home
Timeless appearance
Diverse design and color options
Cons
Requires regular maintenance
Susceptible to scratches
Vinyl Flooring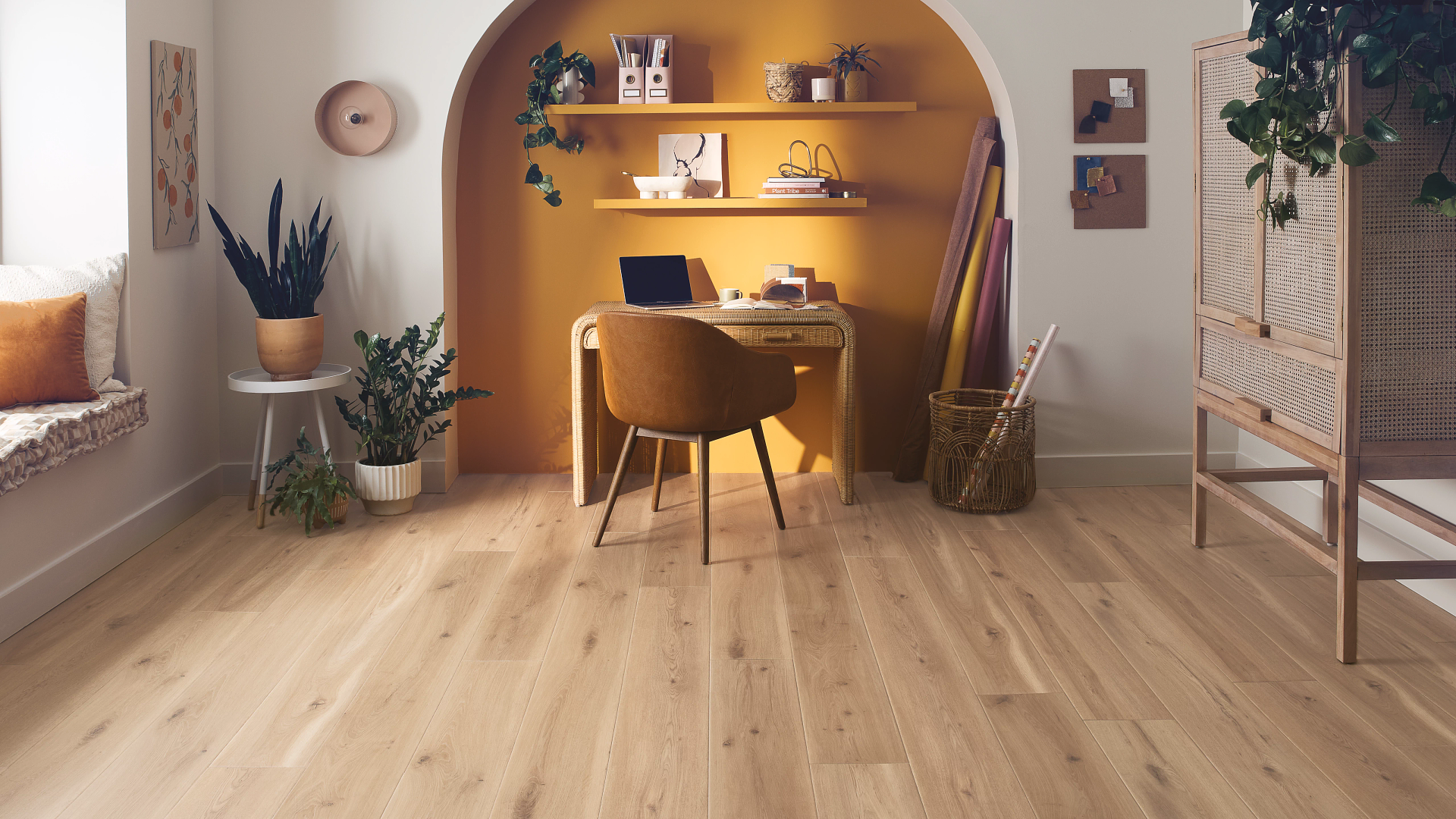 Image: COREtec Floors
What I Think
Vinyl is a synthetic material. It is versatile and incredibly durable. It is moisture-resistant, making it ideal for areas prone to spills (like near and under your desk).
With advancements in printing technology, vinyl plank flooring can now mimic the appearance of natural materials like stone, wood, and ceramic.
Vinyl floors are not the healthiest option. Thin vinyl will also not feel as solid as hardwood flooring, so select one with backing if possible. It is known for emitting VOCs (volatile organic compounds), so if you have allergies or a sensitive immune system and want a wood-like look, you will do better with hardwood, laminate, and wood-patterned tile – the last two of which I cover later in this list.
Pros
Moisture-resistant
Durable
Affordable price
Will hold up to heavy foot traffic
Cons
Can emit VOCs (volatile organic compounds)
Thin vinyl won't feel as sturdy as hardwood without thick backing
Luxury Vinyl Plank (LVP) Office Flooring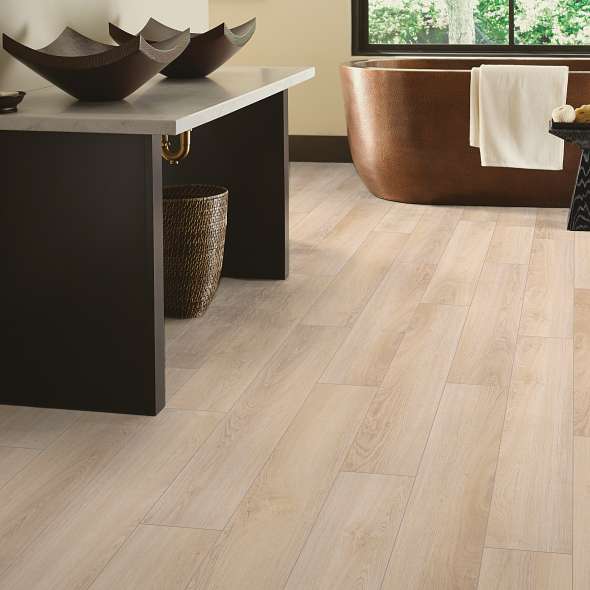 Image: Shaw Floors
What I Think
If you love both hardwood and vinyl, this option balances both well. LVP provides the look of hardwood with all the vinyl benefits. It's durable, water-resistant, and offers a high-end appearance without the high-end price tag.
The benefits over standard vinyl come at an added cost, but the durability is worth it.
Pros
Durable
Water-resistant
Premium look
Will withstand heavy foot traffic
Cons
It can be more expensive than standard vinyl
Laminate Flooring
Image: Flooring Inc
What I Think
Laminate mimics the look of hardwood but at a fraction of the cost. It's more resistant to scratches than wood, making it ideal for high-traffic areas. However, it's less durable than other flooring options, and unlike vinyl, water spills can cause damage.
I currently have laminate because I am prone to allergies and want to avoid VOCs. I am very impressed with the scratch resistance. I roll around like I'm in an 80s dance movie and see no signs of issues.
Like vinyl, you will benefit from a laminate with backing for a more solid feel. It is also less prone to warp.
Pros
Affordable price
Scratch-resistant
Diverse designs
Great for areas with heavy foot traffic
Cons
Less durable than other options
Sensitive to moisture
Thin laminate can bend and warp, so go thick if possible
Tile Flooring
What I Think
Tile is a durable choice and easy to clean. It's available in many colors and styles, including resembling natural wood. Materials include ceramic, porcelain, and natural stone.
While it provides a clean look and holds up well to scratching, it can feel firm and uncomfortable – especially if you are prone to pacing. It also feels cold underfoot without underfloor heating. Square patterns with exposed grout can have a cold look as well. It is also a relatively expensive option due to the material and installation costs.
I considered tile since some rooms of my home have it, but the hard feel and the look of grout led me to choose a softer and cleaner material.
Pros
Durable
Easy to clean
Multiple design options
Will withstand heavy foot traffic
Cons
Cold look and feel
Hard surfaces can be uncomfortable for standing
Cost for material and installation
Carpet Office Flooring
What I Think
Carpet provides warmth and a cushioned feel. It's ideal for creating a cozy office environment, even reducing echo for a quieter workspace. You can find carpet in an endless array of colors and textures and even opt for rugs instead of wall-to-wall carpet.
Still, carpet does come with some issues. It can stain easily, so it may not be the best choice if you eat or drink at your desk. It also doesn't hold up well under a desk chair, eventually creating the need for a chair mat underneath the wheels. It isn't the best solution for areas of heavy foot traffic.
Carpet also traps moisture that can lead to mold buildup over time, which is why I replaced my carpet with laminate.
Pros
Warm and cozy
Sound-absorbing
Cons
Can stain easily
Requires regular cleaning
Doesn't hold up well under desk chairs
Attracts mold
DIY Home Office Flooring With Cling Tiles
Image: Cling Tile
What I Think
Cling tiles, also known as peel-and-stick tiles, are a unique home office flooring idea. They have adhesive backing, allowing you to lay them on the floor. They are a quick and easy DIY solution.
They come available in a wide range of tile, stone, and wood designs, and the product is very affordable. The adhesive can also not hold properly to uneven surfaces and breaks down further over time. For these reasons, this is more of a temporary solution but a good one if you are making incremental upgrades.
Pros
A very affordable solution
Comes in a broad range of material appearances
Easy to install
Cons
Adhesive doesn't hold over time
Overall quality is inferior to the other options on this list
Roundup: Best Home Office Flooring
And there you have it, a quick and easy guide to flooring for home offices. In summary:
If you are looking for extreme beauty, high resale, and durability, choose hardwood flooring.
If you want a durable material with water resistance, vinyl and Luxury vinyl are an ideal pick.
If you want a manufactured product with a low VOC rating, go with laminate.
If you need a temporary fix before investing in more durable materials, go with cling tiles.
Frequently Asked Questions:
What are the cons of installing vinyl plank flooring in a home office?
Even though vinyl plank flooring is durable and moisture-resistant, it can emit VOCs and might not feel as premium as real hardwood.
What are the cons of installing hardwood flooring in a home office?
Hardwood flooring, while beautiful, can scratch easily, especially with rolling office chairs. Regular maintenance might be necessary.
Best flooring for office chairs?
Hard surfaces like laminate, vinyl, and tile are ideal for office chairs, especially when paired with protective mats.
What are the best flooring and flooring brands for a home office?
The best flooring depends on individual preferences and needs. Factors like budget, aesthetics, and functionality play a role.